FERNDALE FRIENDS winter/spring issue is out this week
Here's the FPL column
–LIBRARY UPDATE-
Jeff Milo

We regularly host some amazing programs here at FPL. But then, we've got a particular pair of facilitators who've been at it for a while; you could call them programming pros! Reference Librarian Darlene Hellenberg and Head of Circulation Kelly Bennett have worked together for much of the last 15 years, working individually or as a team in organizing/hosting a variety of special programs and events for the community.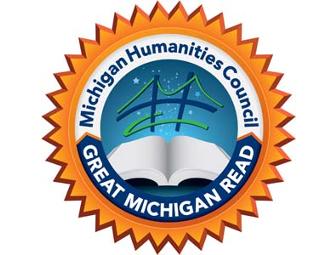 This season, Bennett continues to host her local music showcase First Stop Friday (on every first Friday evening of the month, with two bands performing in our Community Room), while Hellenberg leads our participation in The Great Michigan Reads' series of group-reading discussions/events.
We host an annual community-wide book club called Ferndale Reads. Think of this Great Michigan Read as merely a wider focus: encouraging the entire state to read-along. Our book is Annie's Ghosts by Steve Luxenberg. "It's the true story of the author's quest," Hellenberg said, "to learn about an aunt he never knew he had. It takes place mostly around Detroit and surrounding suburbs." We'll kick off our Great Michigan Reads in late march, check ferndalepubliclibrary.org for confirmed dates.
Our first confirmed program tied to the themes of Annie's Ghosts will be on April 23rd (7pm) at the library, a Memoir Writing Lecture, titled "Preserve Your Family Stories: Tips for Interviewing Your Loved Ones" Author Steve Luxemberg will speak about his book on May 22nd (7pm) at the Rustbelt Market
Hellenberg said she enjoys "finding ways to tie everything together" when it comes to engaging the community through group-reads, namely: "organizing programs that highlight a book's themes." Hellenberg enjoys hearing how readers in the community are uniquely experiencing the book.

Meanwhile, says Bennett of our live music events: "I invite creative people into the library's space, make sure they have what they need and just let them go. I enjoy seeing the experimentation that the bands bring to our space; it's a different kind of venue so many choose to attempt a different kind of show."

First Stop Fridays has garnered positive responses, demonstrating that libraries are "community hubs," Bennettt emphasizes. "Our resources are becoming more about an experience and face-to-face interactions." The more our nations' libraries embrace this expanded role, the more patrons and communities will flock to them, "in turn, then, seeing everything we have to offer."
Our credentials as a cool alternative venue precipitated our being ask to join the annual Metro Times Blowout music festival last May, hosting a weekend's worth of bands! Follow up @ ferndalepubliclibrary.org for the forthcoming line-up on March 7th
Bennett: "Darlene and I went through a lot together in Circulation when the library was going through growing pains (middle 2000's). She's the kind of co-worker and collaborator that can encourage you so much that you feel invincible. She can also parse out any flaws in your plan."
Hellenberg: "…as a partner-in-library crime, Kelly is great at seeing things from every angle. She's great at making sure we can actually pull-off whatever it is that we're envisioning."
Together, they make sure that every program winds up being of the utmost benefit for the Library's engagement of its supportive community.
Upcoming Events: For the Love of Reading is an art exhibition anticipated to draw hundreds of visitors to the library, celebrating books and literature's ability to inspire (Feb 25 – Apr 5 –hung/displayed in community room / atrium). Meanwhile, in the Kids Corner – Feb. 17th – 1-3 pm – Chocolate Olympics: Compete in 5 events with chocolate candy then munch on your winnings. Feb. 19th – 1-3 pm – Yarn Creatures: Create your own yarn creature with materials provided by the library.

Follow us online: https://www.facebook.com/FerndalePublicLibrary — https://fplobserver.wordpress.com/